Artful Dimensions Gallery
ARTFUL DIMENSIONS GALLERY  Our Mission is to promote understanding and appreciation of three dimensional arts.
In addition to wonderful works of art in our gallery, we also offer lectures, workshops, individual and small group art classes and cultural events in our space.
Our gallery space is a work of art: renovated entirely by our artist members, we encourage you to make it part of your next visit to incredible, historic Fredericksburg, VA.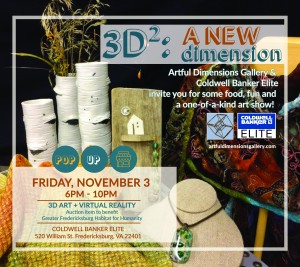 Temporary Pop up Gallery located at Coldwell Banker Elite at 520 Williams Street, Fredericksburg, Va  |  

(540) 899-6319  |  
Open Tuesday through Sunday: 12-6PM
Closed on Mondays
Gallery Space at 520 Williams Street will be the temporary location of Artful Dimensions Gallery as we continue the renovation and studio build out of our new home at 922 Caroline Street.  We hope to be in our new gallery home by December  1.
ARTFUL DIMENSIONS, a registered 501(c)(3), is a non-profit 3-D Art gallery in a recently renovated warehouse